In the taxi on the way back from NetDevOps Days London three weeks ago I sent an email to many of those involved, the subject line started with "Wow!"
NetDevOps Days London went from idea to packed event in 30 days and the spirit on the day was overwhelmingly positive. There were over 110 attendees from many industries, geographies, technical backgrounds, and the full range of network automation maturity. All the attendees I spoke to shared a similar message with me: "the industry needs an event like this."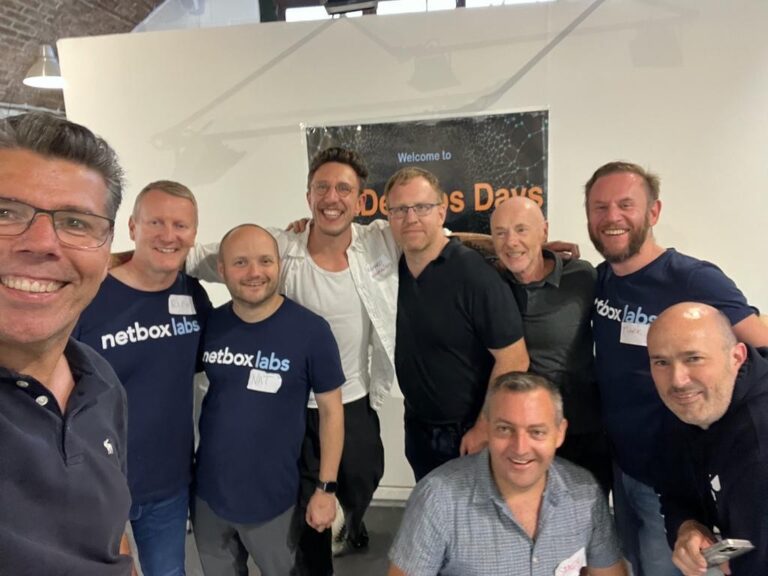 Come Together, Right Now, Over Network Automation
I'd like to extend a huge thank you to our sponsors Equinix, Evolvere, IPFabric, Itential, Network to Code, nextPacket and Nokia. Alongside making the event financially feasible, each of these companies exhibited exactly what made NetDevOps Days such a unique event: companies coming together to provide a vendor neutral and learning-focused environment to help network automation flourish.
At NetBox Labs, community is core to our mission and being able to extend that focus to the network automation movement with such important partners bodes well for future events. There was a sense in the room of building together and I think Chris Wade from Itential captured it well during his presentation:
"I think this group is crucial. I'd like us to challenge ourselves to think about how we're doing what we do. I'd like us all to think about how we can collaborate further."
NetDevOps Days speakers get a huge round of applause!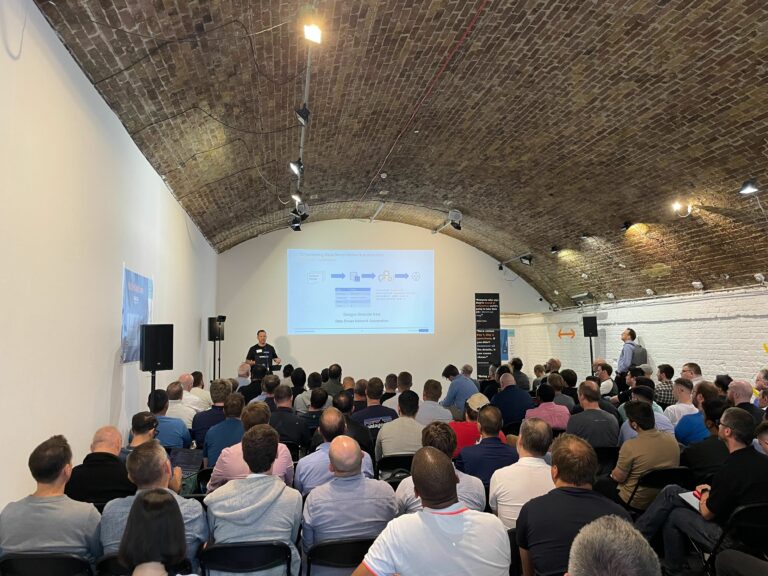 I'd like to give a special shout out to our speakers: Pete Crocker, Steve Corp, Miles Sutcliffe, Jason Edelman, Chris Wade, Ian Chilton, Rick Donato, Steinn Örvar Bjarnarson, and Dan Finneran.
Particularly pleasing for me was the "it'll be alright on the night" spirit our speakers showed. Many of them signed up when we had no date, no location, and we didn't know how long the talks should be!
We had nine incredible presentations covering all aspects of network automation including educational tooling sessions, forays into cloud native, deep dives into some of the challenges ahead of us, battle stories, and much more. We've received the videos, edited them, and we're looking forward to sharing them with the world very soon.
The perfect crowd at NetDevOps Days
Lastly I'd like to thank our incredibly enthusiastic attendees, many of whom traveled from outside the UK to be there on the day. We had a sense of the huge interest in NetDevOps Days when the early bird tickets sold out in 72 hours, but the energy that followed was humbling. In the post-event survey, a mind-blowing 96.5% of attendees rated the event 8 or above out of 10 and we're appreciative for the detailed feedback you all gave us. Next time we'll have a bigger venue, more toilets and more comfortable seats. 😉
A lot of the feedback we got really resonated with me…
"I thought we were far behind in the automation stakes, I'm beginning to realize that we're tantalizingly close to being able to achieve some really cool things"
"I most liked meeting the community of like minded people sharing their experience of trying to solve similar problems"
"It gave us renewed ideas in regards to network automation"
"It was great to learn about new python libraries and see what my peers in the industry are doing"
"I learned that there are aspects around positioning and stakeholder management that need more attention to ensure long term adoption of network automation"
"I most liked the openness of the event i.e. not a sales pitch. Sharing ideas and experiences!"
"the guy handing out the mics for the Q&A's was awesome" (Thanks for all your help Rich Bibby & Nat Morris 😎)
Next stop, NetDevOps Days NYC!
After wrapping up NetDevOps Days London we're now fully engaged in making NetDevOps Days NYC a roaring success. Expect news on that very soon! To stay in the loop you can follow us on Twitter, join the mailing list, or jump into the #netdevopsdays channel in the NetDev Slack.
Lastly, if you couldn't make NetDevOps Days London and want to watch the talks, you don't have long to wait. We expect to start releasing videos in the coming days. 📹